The

Design Challenge

Client wanted to remove an old patio and build a new patio at the rear of their property.

OUR INTUITIVE SOLUTION FOR THE ISSUE

We have just completed the Fossil Mint Sandstone patio with matching brick retaining edge. As you can see the results are pretty impressive.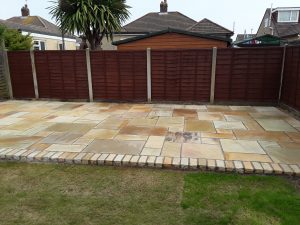 Realising

the Project

We understand that your property is a big investment and we want our customers to know that we are there for them to help them accomplish the dreams that they may have for their property. Working closely with the customer we delivered a stunning solution and the client was very pleased with the outcome.